PUBLISHING NEWS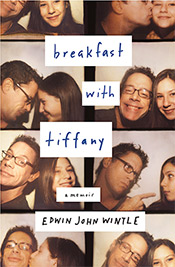 Amazon rolls out new e-book and print on demand editions of BREAKFAST WITH TIFFANY in June, 2014. You can order a copy for your Kindle, ipad, etc. and/or have your own paperback of the book printed out with this new snappy new cover featuring the author and his niece. Purchase now
The new editions do not include an epilogue because Ed is currently hard at work on the sequel, which picks up his and his incredible niece's story nearly ten years after the original!
Ed's essay, "Lay It All Down" will be published in May, 2007 in the anthology Girls Who Like Boys Who Like Boys: True Tales of Love, Lust, and Friendship Between Straight Women and Gay Men (Dutton). Contributors include Andrew Solomon (National Book Award Winner for The Noonday Demon), Cindy Chupack (Sex and the City), Gigi Levangie Grazer (The Starter Wife), Simon Doonan (Confessions of a Window Dresser), and Ayelet Waldman (Love and Other Pursuits). All of the authors are donating a share of their proceeds to The Trevor Project, a nonprofit organization dedicated to helping gay teens.
---
MOVIE NEWS
Breakfast with Tiffany Being Developed as a Feature Film
• Daily Variety
• Hart Sharp Entertainment Press Release
Writer-Director Tommy O'Haver and Co-writer Irene Turner Hired to Adapt Breakfast with Tiffany
• Daily Variety

---
2005 YEAR END NEWS
An Amazon.com "Best Books of 2005" Pick (Gay & Lesbian)
Breakfast with Tiffany was #3 on the The Advocate's Top 10 LGBT Titles for 2005

Breakfast with Tiffany was the runner-up for Elle Magazine's Non-fiction Book of the Year
---
INTERNATIONAL NEWS
Brazil
Breakfast With Tiffany will be translated into Portuguese and published in Brazil by Rocco in 2008.
Poland
Breakfast With Tiffany will be published in Poland in 2007 by Dolnoslaskie.
Germany/Austria/Switzerland
Breakfast with Tiffany was published in 2006 by Wilhelm Goldmann's "Manhattan" imprint. Goldmann is owned by the publishing conglomerate Bertelsmann.

The Netherlands
Breakfast with Tiffany was published in Holland by Unieboek in 2006.
---
OTHER NEWS
ED IS NOW AVAILABLE TO JOIN BOOK GROUPS
If you'd like Ed to join your book group as it discusses Breakfast with Tiffany (by phone, of course!), please send an email to Ed with the details.
Breakfast with Tiffany has been released in paperback in the US & Canada (Miramax Books), and in the UK, the Republic of Ireland, Australia (Simon & Schuster), South Africa and New Zealand.
---
REVIEWS
UK/ International Reviews

People (

"Critics Choice")
June 27, 2005
Entertainment Weekly "2005 Must List"
June 24/July 1, 2005

ELLE (Winner of the "Elle's Lettres" August Readers' Prize)
August, 2005
Time Out New York (10th Anniversary Issue)
October 5, 2005
New York Magazine -- A "Best Beach Reading" Pick
The Summer Issue: July 4 – 11, 2005
Entertainment Weekly
June 17, 2005
Genre
July, 2005
Time Out (Summer Reading Pick)
May 5-11, 2005
Out
June 2005
Instinct
June 2005
Southern Voice
May 27, 2005
Time Out (Summer Reading Pick)
May 5-11, 2005
Kirkus Reviews (Starred Review)
May 1, 2005
Publishers Weekly
April 25, 2005
---
ARCHIVED NEWS
Ed and his niece have just returned FROM BOOK TOUR IN LONDON, where they completed a media blitz of radio, television and print. They appeared on "This Morning," a highly-rated national television show, and were heard on England's most popular radio show, "Women's Hour." Additionally, Breakfast with Tiffany was excerpted for The Mail on Sunday's YOU magazine (7/24/05), and received a full-page rave review in The London Times' Sunday Magazine (8/7/05).
Ed Was Chosen For Entertainment Weekly's 2005 2nd Annual "Must List"!!
See the cover story on the double issue dated June 24/ July 1: "122 People & Things We Love This Summer." Ed is #113, in the "Up and Comers" section of the list!

Breakfast with Tiffany was excerpted in The New York Times for the "New York Bookshelf" column on Sunday, June 5, 2005.
Book Club News
Breakfast with Tiffany will be offered for sale by The Book of the Month Club, The Quality Paperback Club, and Insight Out Books.
The Breakfast with Tiffany launch party, held at BLVD in Manhattan's Nolita on June 16th, raised a grand total of $9,000 for Living Beyond Belief, a non-profit organization created in memory of AIDS activist Wayne Fischer. Living Beyond Belief provides college stipends to New York City public school students who participate in HIV/AIDS prevention education while seniors in high school. Three hundred people attended the event, which was hosted by Oscar nominee Patricia Clarkson, Golden Globe winner Sally Kirkland, actor/playwright/novelist Charles Busch, and downtown diva Flotilla De Barge. The lively crowd was treated to a rousing rendition of "Moon River," sung by legendary chanteuse Margaret Whiting.