Ed Wintle is an early-40s Manhattanite living the nice, orderly life of an urban single gay man with a great career, a close circle of friends, and the growing sense that something is missing. Tiffany is Ed's "thirteen-going-on-thirty" talented and troubled niece whose single mother is at her wit's end dealing with her daughter. So Ed invites Tiffany to live with him in New York City -- he's the uncle she idolizes, and she the niece he adores. But can their relationship survive their lives being turned upside down?

Breakfast with Tiffany chronicles their first school year together. Tiffany is lovely, lively, and bewitching as only a teenage girl can be -- decorating her room, obsessing about beauty products, running up her cell phone bill, and writing poetry. She is a gifted singer, and her uncle hopes to nurture her talent, even as he imposes a strict schedule to keep her on the road to academic recovery. Completely taken with his new charge, Ed experiences moments of joy unlike any he's ever known.

But Tiffany can prove infuriating. As she battles the problems of her past and the daily trials in her NYC public school, Ed tries to help her hold onto her innocence, while he struggles between being protective and controlling. With a penchant for befriending all the wrong people, Tiffany also carries a great deal of emotional baggage, including a distinctive problem with authority, a tendency toward tantrums and melodrama, and a view of the world that is at times too adult. Her troubles, as her uncle painfully realizes, parallel many he himself faced as a young man, forcing him to come to terms with his own struggles and disappointments.

Every parent will relate to the portrait of unconditional love painted in Breakfast with Tiffany. As a family navigating the precarious teenage years, Uncle Eddy and Tiffany must face situations that are sometimes heartbreaking, often hilarious, and never less than authentically human.

advance praise
united kingdom/international
reviews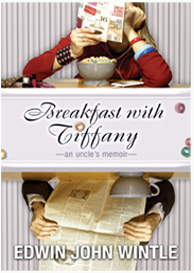 Miramax Books June 2005

Paperback Release June 14, 2006


Purchase book:
Amazon.com
Barnes & Noble